The what?
If you are a landlord, it's likely the 1st of July 2021 has been marked in your diary for some time, as today is the official date that all new or renewed tenancy agreements must comply with all the Healthy Homes Standards within 90 days.
The background story…
In 2017 the New Zealand government rolled out the Healthy Home Guarantee act to help improve the living conditions and the health of tenants living in rental homes.
Although most New Zealand landlords do a sound job of ensuring that the homes they rent are of an adequate standard of living, the regulations of the healthy homes act were implemented to ensure ALL rentable properties in New Zealand adhere to a baseline standard of living by creating legal minimum requirements for heating, insulation, ventilation, draught stopping, moisture ingress, and drainage.
So what do the minimum requirements look like?
These should hopefully already be familiar to landlords in New Zealand, but below is a quick sum-up of the requirements that all new and renewed tenancy agreements must comply within 90 days of the 1st of July (today).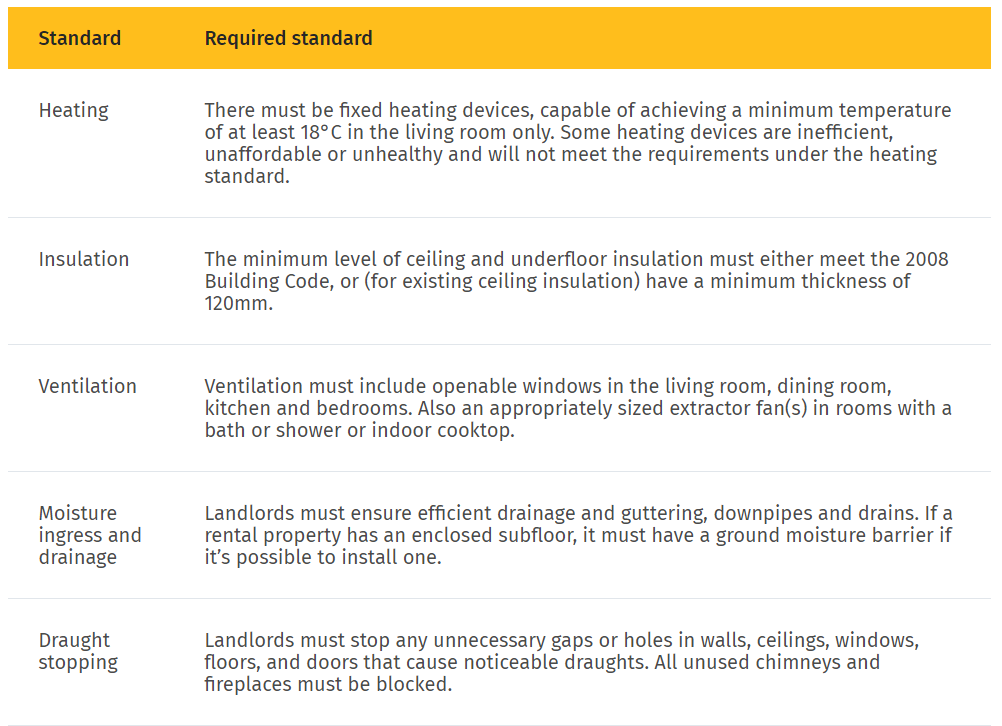 Information sourced from https://www.hud.govt.nz/residential-housing/healthy-rental-homes/healthy-homes-standards
What's next for rental property owners?
The question every rental property owner wants answered… Including us at Rentsmart!
The most common concern with the Healthy Home Standards is the financial cost to landlords. If more and more landlords decide that it is too expensive to maintain a rental property, then the logical progression is a shortage in much-needed rental properties. In other words, houses that landlords cannot financially afford to get up to standard will sit empty!
Although there is talk of further housing policy changes to come, it seems the Healthy Homes act is the most pressing roll-out on the current government's agenda.
Feeling overwhelmed by the Healthy Homes standards?
Give us a bell – the team at Rentsmart are always happy to answer any regulation questions.
To chat – Sam Murdoch – 027 841 3223